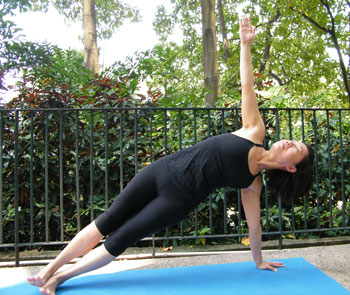 Carol
spent a decade on the office work given her understand the stressfulness on both mind and physical, lead her to aware the needs of body and mind. Attention to on the inner needs and to create harmony of herself. Since 2005, Carol has got an initial contact with yoga, it planted a seed into her mind. She realizes yoga is her lifelong process and integrating yoga on the daily life. Through the practice of yoga to refine the mind and body. She is grateful to all her teachers, family and friends for their guidance, patience, love and support. Carol is a registered through the International Yoga Academy at the 200-hour.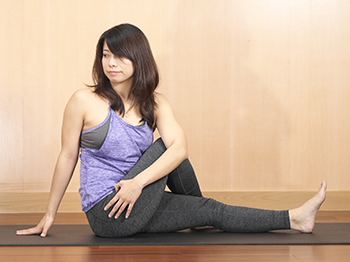 Erica
had first attended yoga class since 2004, yet she discontinued as she found the classes not interesting at all.
Anyhow in 2008, her family has given her a free membership at a local fitness centre, since then, resumed yoga again despite it remains unattractive to her. At most times, Erica used yoga as a stretching tool after jogging.
Dramatically in 2011, Erica met a new yoga teacher who showed her passion and gave her a brand new insight to yoga. She started digging into the history and philosophy of yoga and practised regularly. Indeed, yoga does not only serve well to the well-being of Erica. She has actually introduced it to her father, by the time when he had a serious health threat. Erica helped to relieve her father's pain with simple stretching and pranayama she learnt from classes. In return, her father encouraged her to further study the training mechanisms and knowledge and share the virtue of yoga with others.
Erica is now a Yoga instructor, she has completed Advanced Hatha Yoga Teacher Training (1&2) with Master Yogananth Andiappan.
Erica sincerely hopes her students can experience fun in yoga. Her teaching philosophy is to introduce yoga in a safe and harmony environment, while students can focus on their own learning pace; apply the wisdom of yoga in their daily lifes; and most importantly feel grateful all the times.
Ingrid
started her yoga journey more than a decade ago. She has completed 500-hour Advanced Hatha Yoga Training course. Furthermore, she honorably obtained the Professional Yoga Instructor Certificate issued by Australian Training for Fitness Professionals.
Yoga has revolutionized her personal experience and professional expertise. With her strong commitment, warmest enthusiasm and ever-positive dedication in Yoga, she believe her yoga journey will continue merrily for the rest of her life.
For many years, I was a manager in the restaurant field. Due to stress and long working hours, my health worsen over the years. Introduced by a friend, I started practicing yoga. I find my body becoming stronger and softer, and my heart deeply fallen in love with yoga. I completed my 500-hour Yoga Certificate in 2011. I even gave up my over 20 years career in the food industry and choose to enter the Yoga field. Yoga is a broad and profound knowledge. I have been holding a lifelong learning attitude for my own progress and growth. I like practicing yoga and sharing the joy with people.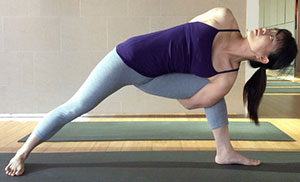 Kennis
has been practicing yoga since 2006. She became a yoga enthusiast once she tried her first yoga class. She enjoys the feeling of lightness, concentration and strength from the practices. In 2010, she decided to move forward in her yogo path and completed 200-hour teacher training. She is passionate about yoga and yoga is part of her life.
Minnie
began her yoga journey in 2008. Initially as a way to relieve stress from work and stay healthy, Minnie found inner peace and joy through practicing yoga. Her passion about learning and sharing motivated her to complete the RYR-200 Teacher Training and the FlyogaTM Instructor Course. Minnie believes yoga is for everyone who will love and enjoy it with proper training and practice.
Magesh
is a self-motivated yoga practitioner who has started his yoga journey from his college days. He is passionate about yoga and wants to spread his knowledge and experience with people.
Magesh is well qualified in the Yoga field and has successfully completed several yoga training courses including an International Teacher Training Course (Yoga Siromani) from Sivananda Yoga Vedanta Centre in Kerala, Diploma in Yoga from Annamalai University in Tiruchirapalli and Diploma in State Yoga Referee from Tamilnadu Yogasana Association in Madurai.
Apart from yoga credentials, he also holds a Bachelor of Engineering in Electrical and Electronics from Anna University, Tamilnadu.
Magesh's professional experience includes being a Yoga Instructor at the Scientific Yoga Research and Fitness Centre in Salem since May 2014. He also works for Personal Training for members, assists Teacher Training courses to students from various parts of India and takes classes for Kids with specialized training for Yoga competitions. Also, he has been invited to participate in various Yoga competitions as a jury (includes National and State Level Competitions 2016 and 2017) .
Magesh has participated in numerous Yoga competitions and has won many prizes and awards from National and International Yoga competitions.